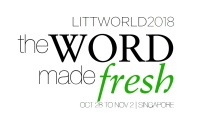 Our titles will be on display at LITTWORLD 2018  in Singapore, October 28 to November 2, 2018.  LittWorld is a world conference of Christian Publishing.  

Organized by Media Associates International (MAI), the conference will attract more than 250 professionals from Asia, Africa, Europe, North and Latin America and the Middle East.Men and women from 94 countries have participated in the triennial conference since it began in 1986.  All Christian publishers, editors, writers, designers and other staff are welcome.  Go to www.littworld.org to learn more.
Co-hosted by the Society of Biblical Literature and the American Academy of Religion, the Annual Meetings 2018 will be held November 17-20 in Denver, CO at the Colorado 


Convention Center as well as surrounding hotels.  Our meetings will be held at the Sheraton Downtown.   

​To schedule an appointment: